Hall of Nations,Pragati Maidan, New Delhi
Location : New Delhi, India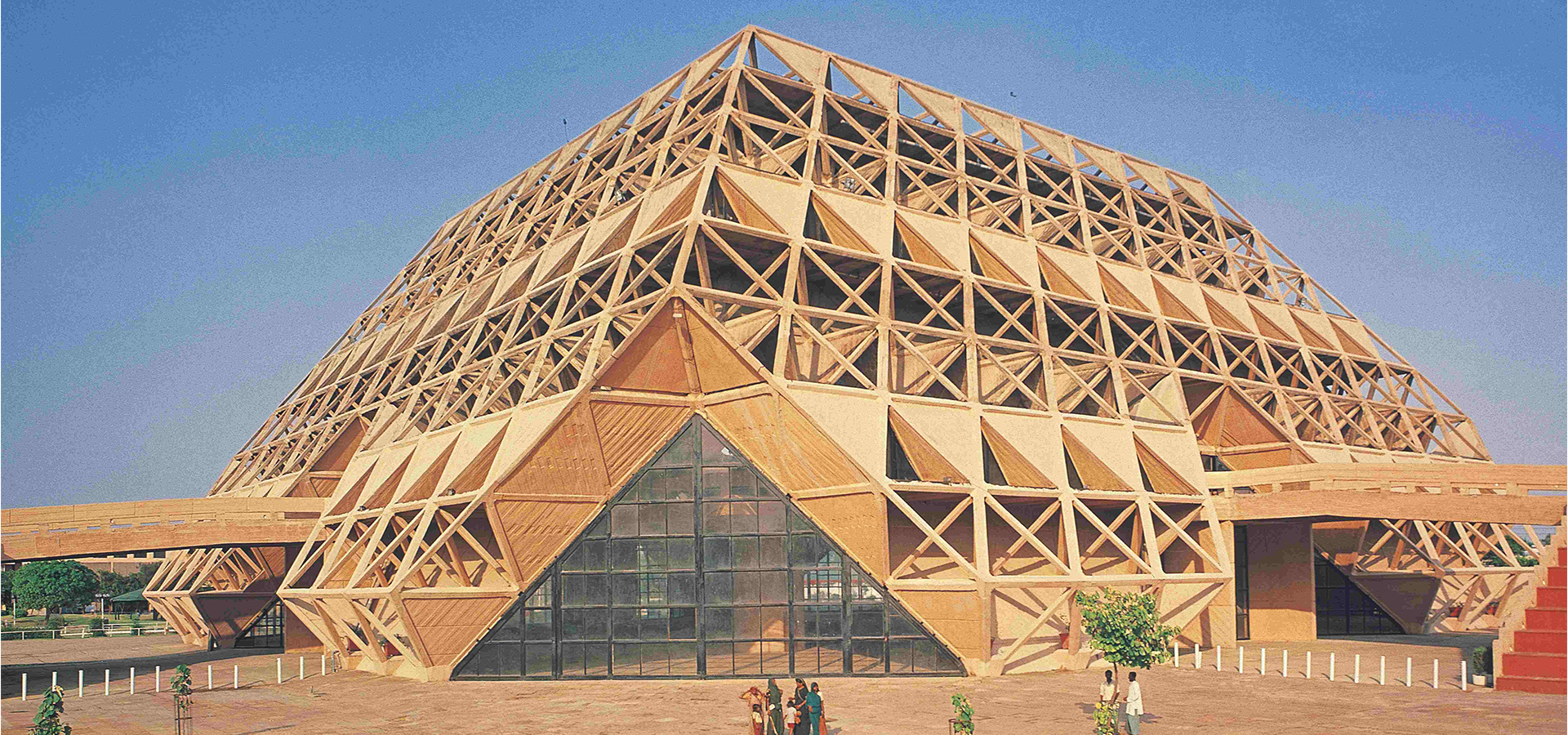 Description
The Permanent Exhibition Complex is designed to form the focus of 130 acres of Exhibition ground designed by Raj Rewal in New Delhi. The layout of the Permanent Exhibition Complex demarcates the Hall of Nations as a vast square in plan with eight openings of pivoted steel gates accessed by staircases and ramps, under which, facilities have been inserted.
The design was evolved to meet the constraints of time, availability of materials and labour, but above all, to reflect symbolically and technologically, India's intermediate technology in the 25th year of its independence. The depth of the structural system was utilized as a Sun breaker and conceived of in terms of the traditional 'jali', a geometrical pattern of perforation that serves to obstruct directs rays of the harsh Sun while permitting air circulation.


The main pavilion of the Hall of Nations has a clear span of 78 metres and a height varying from three metres to 21 metres, thereby providing a vast capacity for items to be exhibited, from books to bulldozers.
Raj Rewal : Innovative Architecture and Tradition
Foreword
Aurélien Lemonier
The Hall of Nations, built to celebrate the 25th anniversary of Independence, marks the meeting ground of the state-of-the-art technology of three dimensional spatial structures and local and pragmatic possibilities of the building's disposition. While this type of structure, to be built in steel and precast in a factory, was theorised about — fantasised about — in the United States, Rewal and engineer Mahendra Raj, with whom he collaborated regularly, came up with solutions by  constructing it in reinforced concrete in situ. Ideologically incomprehensible for Buckminster Fuller, this approach was defended by Robert Le Ricolais who invited Rewal to present his work at the University of Philadelphia. Structural marvels with more conventional masonry, the understanding and control of production conditions impelled Rewal to define the idea of an 'intermediate technology' that was neither completely traditional nor industrial.
Bibliography
CEMENTO (Rome) Vol.597, February 1986.
Architecture Contemporiane/Contemporary, Architecture Architecture,
Bibliotheque des Arts (Paris/ Lausanne) Vol.7, 1984-85