Asian Games Village - 1980-1982
Location : New Delhi, India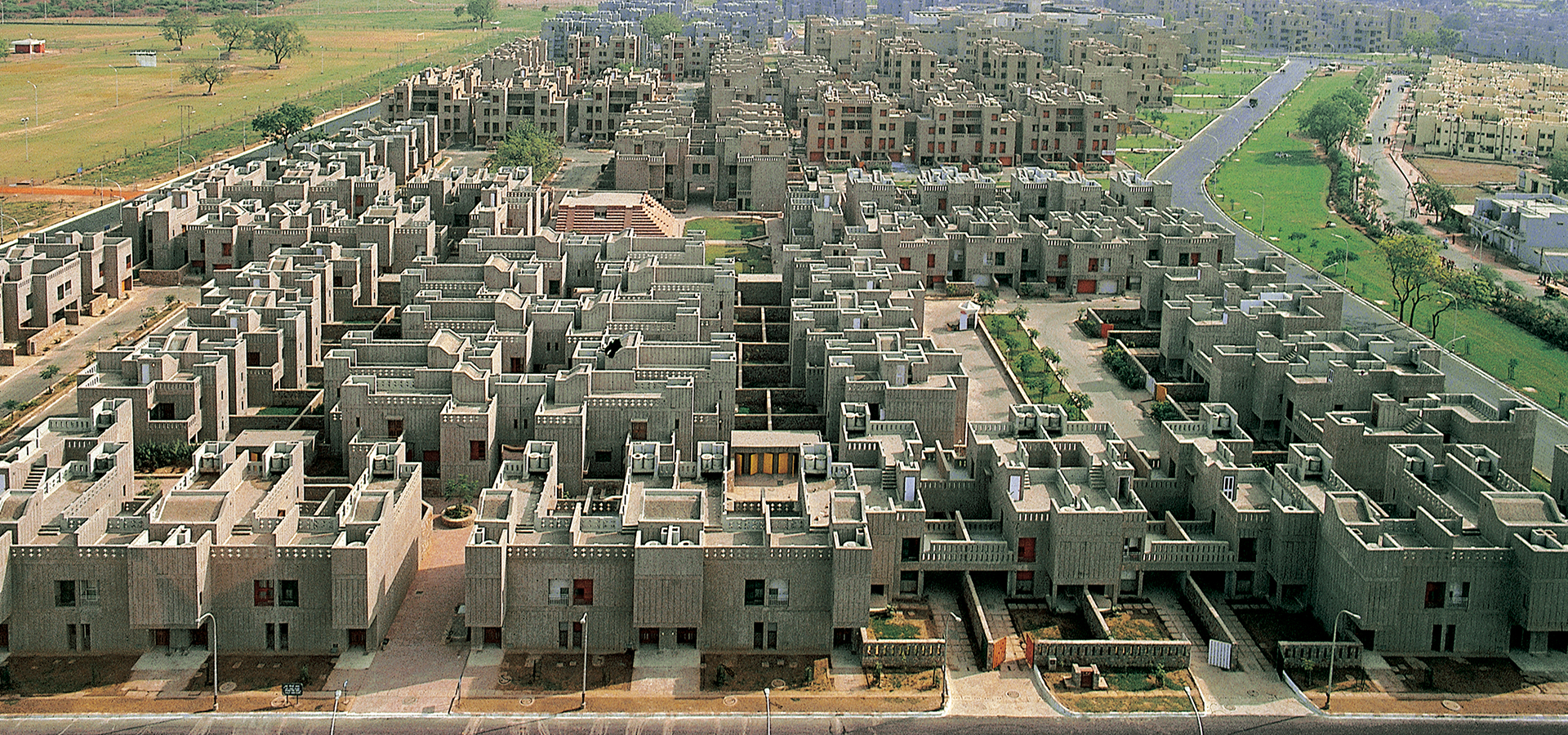 Project Description:
Constructed in 1982 in New Delhi, the Asian Games Village was designed to accommodate the Asian Games athletes, units that would later be sold to the public. The type-based design brief for 500 units in a 35-acre plot was created by an urban pattern of low-rise, high-density development representative of the typical Indian 'mohalla ' or community, creating cluster formations ideal for the Indian climate, stepping away from the norm of hitherto seen stereotypical units by introducing variance in scale and elements.
The concept is based on arrangement of narrow shaded pedestrian streets sequentially linking clusters, open spaces and commercial and recreational areas. A sense of enclosure and continuity is maintained throughout the scheme with points of rest and changing vistas lending it visual interludes.
With a mix of streets and squares a 'theatre of the street' has been created, where public interaction can spill from their immediate spaces as neighbours into a community, and works towards making them active participants and not just viewers.
The peripheral roads are connected to the cul-de-sac parking squares which in turn give way to individual garages or car porches attached to the houses or apartment blocks.
The plan deliberately deviated from the characteristic trend of repetitive units and disjointed open spaces usually associated with DDA housing. Perceived as a prototype of a segment of a new city, the presented solution developed housing units that could be organically linked together to form streets, squares and clusters. The requirement of 500 units spanned 200 individual town houses and 300 apartments in two- to four-storeyed buildings with each unit type spawning three variations according to areas.
The central spline of the layout is reserved for pedestrian courts and streets of various clusters. Nearly 80 per cent of the units have access from both pedestrian enclosures as well as parking squares.
Bibliography
Abitare (Milan), Vol. 219, November 1983
Architecture (Sept. 1984). USA
Architecture and Urbanism, Tokyo. No. 148 January 1983
Architecture Contemporiane/Contemporary, Architecture Architecture, Bibliotheque des Arts (Paris/ Lausanne) Vol.5, 1983-85
Modernite Un project Inacheve; Forty Architects, Electa Moniteur (Paris), 1982
Contemporary Asian Architects, TASCHEN, edited by Hasan-Uddin Khan
Design (New Delhi) January 1982
Designing in Islamic Culture, The Aga Khan Programme for Islamic Architecture (Massachusetts), Vol 5, 1984
Inside Outside (Bombay) Oct/Nov 1982
RIBA Journal (London), July 1983
Techniques et Architecture (Paris), no. 345
"In an age bemused by the mystique of high-density high-rise clusters of impersonal glass and steel buildings, Raj Rewal's concept for a housing complex in New Delhi is an exciting tour de force of traditional elements in contemporary form: a compelling new equation between tradition and modernity. 
It integrates historic housing elements Like the courtyards, rooftop terraces for sleeping in summer, streets and squares with the whole hierarchy of open and enclosed spaces."
Patwant Singh
Editor and Publisher, Design Magazine