NATIONAL INSTITUTE OF IMMUNOLOGY - NEW DELHI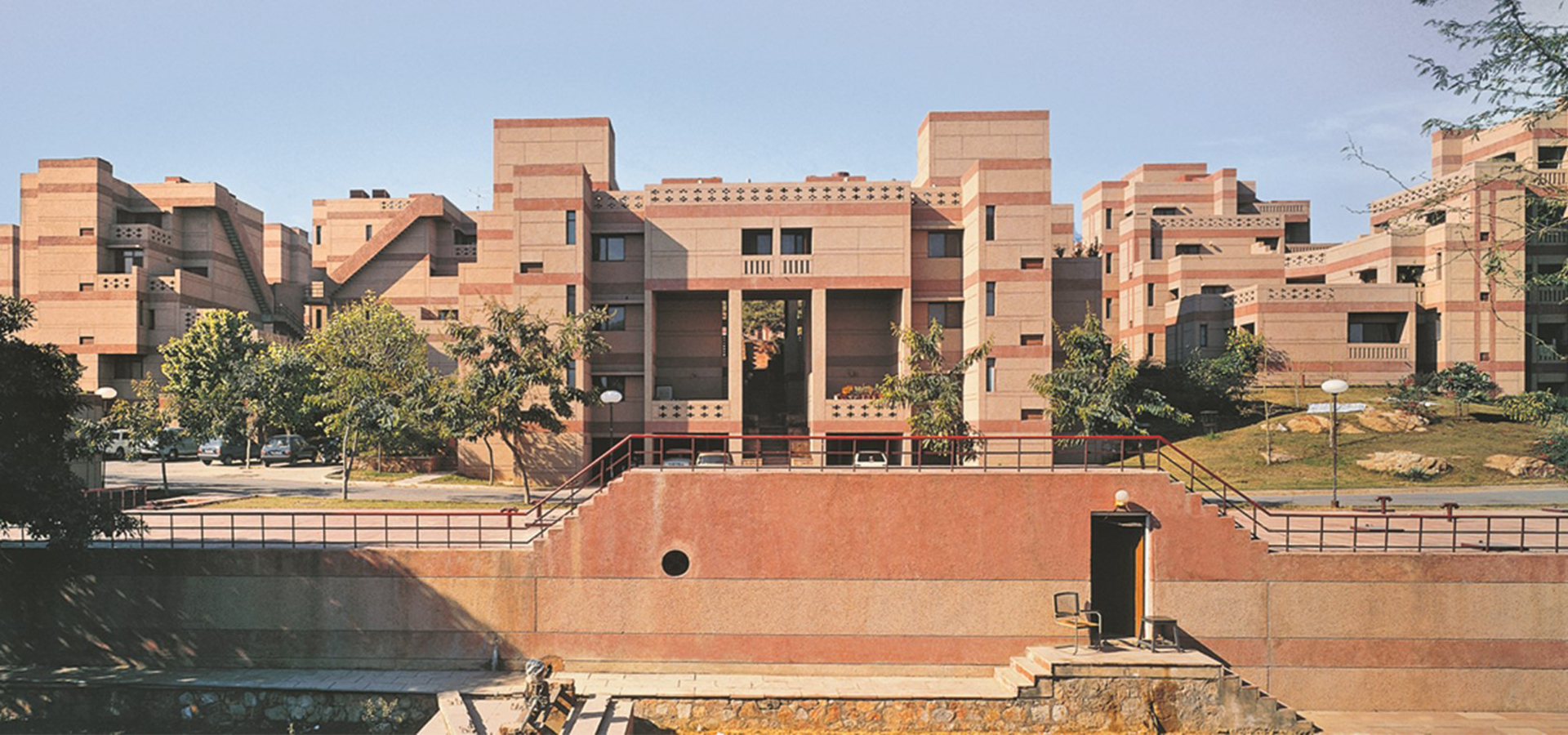 Description:
The National Institute of Immunology (NII), part of the Jawaharlal Nehru University complex, is a research-oriented institute spread over 19 acres of an undulating site in South Delhi. The complex comprises academic, research and laboratory buildings along with living accommodations for the director, professors, scholars, technical professionals and other staff, besides additional facilities. The design is bred on its challenging landscape, unfolding and merging into its varied levels, integrally binding context with requirement across its phased developments.
Quotation from the article written for Monograph on Raj Rewal published by Electra Moniteur, France,1986
William J. R. Curtis 
The primary function of the institute is scientific research. The programme contains laboratories, study rooms, a library, auditorium, a director's house and lodgings for professors with families, married assistants and unmarried researchers. Each of these different types of dwellings is in its own cluster close to the entrance of the site. 
The central building also acts as a gateway and its axis corresponds with the main spine of the scheme. The route climbs towards the laboratories which occupy the highest points of the site. Rewal has conceived the ensemble as an analogue of a traditional town with courts, galleries, level changes and a uniform use of materials and colours. It is also a landscape conception (the open parkland alongside has been preserved in its natural state). The buildings are covered in washed grit finish containing beige and pink sandstone pebbles. With its primary and secondary axes, its routes, its fine proportions and its formal themes of stratification and 'outdoor rooms', the National Institute of Immunology constitutes a modern reinterpretation of Fatehpur Sikri, a princely palace/city constructed for: new technology elite.
 Bibliography
Architectural Record (New York), June 1989
Architecture Contemporiane/Contemporary, Architecture Architecture, Bibliotheque des Arts (Paris/ Lausanne) Vol.11, 1989-90
Contemporary Asian Architects, TASCHEN, edited by Hasan-Uddin Khan
Inside Outside (Bombay) Oct/Nov 1987.
Techniques et Architecture (Paris), August/September 1985